&nbsp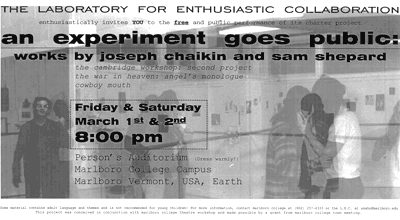 The Experiment
Persons auditorium is the cavernous home of the Marlboro Music Festival. Our experiment took place on the floor of the house and on the stage.
Part 1 A theater sculpture containing two actors performing Sam Shepard and Joseph Chaikin's "Cambridge Workshop, Second Project." The tepee like structure is lit from one side casting the silhouettes of the actors on the other. One wears a gas mask and uses a microphone to speak. The sculpture was explorable from all sides and angles – yet most audience stayed in front only. The scene is accompanied by upright bass and conga.
Part 2 A fabric wall rises cutting the audience in two parts. It is dark. An actor begins to recite "War in Heaven: Angel's Monologue" by Sam Shepard and Joseph Chaikin. He is accompanied by bass and conga. The actors, wearing winter camouflage, move in a contact improvisation. The only light comes from a projected image of live video feedback. Now the audience can choose weather to stay in front and struggle to see the dimly lit bodies moving – or to go to the other side and watch faint shadows dance on the massive muslin wall. Again most audience stayed in front.
Part 3 Lights come up, the fabric wall comes down, the actors run from the house floor to the stage where the set of Cowboy Mouth is arranged so that the small audience sits on stage with the actors. The house lights are the same as the actors lights and stay on throughout the play. . A live jazz quartet played immediately after the curtain call.
The Findings
Beginning with the workshop style audition and continuing through the closing performance, An Experiment Goes Public was different from the ways any of us had worked before. It generated significant attention from the community and amongst ourselves. LEC 1, as we now refer to it, set in motion the fundamental nature of how we work which has changed very little while it has developed.
© 2008 The Laboratory for Enthusiastic Collaboration All rights reserved