&nbsp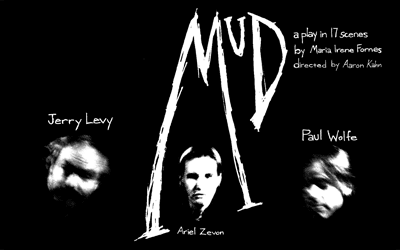 The Experiment
Mae lives with Lloyd whom her father brought home as an abandoned child and raised with Mae. Mae and Lloyd live in considerable rural poverty but Mae attends literacy classes and is committed to learning to read, and to becoming numerate. Whilst Lloyd takes care of their pig, Betsy, Mae works hard cleaning, cooking, and ironing. She attempts to deal with Lloyd's ill health and invites an older man, Henry, to read to them a health pamphlet. She then invites him to join them for a modest meal and when Henry recites grace Mae is deeply affected. Her mind's hunger for knowledge and self-improvement accelerates. Henry moves in to complete the trio, replacing Lloyd in Mae's bed, but when an accident disables Henry, Mae feels that both men are holding her back. She leaves them, but is pursued by a desperate Lloyd who shoots her and carries her back on stage. A dying Mae speaks of the light she has died to pursue.
The Production
Our environmental staging of Mud took place in the woods of rural southern Vermont on the campus of Marlboro College. In cooperation with the college's outdoor program, we selected a site and built a theater in the woods that could hardly be noticed until one had already entered the sight lines of the stage. With an upstage wall of a leaf covered earthen hill, a stone hearth, a stage floor made of loading dock palettes and audience seating made of hey bales, Mud surrounded the audience with natural elements. Bassist Harlan Rollins built an original instrument he called "The Bass Haus" on which he accompanied all but the first scene live.
The Findings
This production of Mud had a profound effect on us, the college, and the greater Southern Vermont theater community. Audiences gathered in the lobby of the Whitemore Theater and were led 7 minutes walk into the woods for the performance. The lively chatter that characterized the pre-show walk was contrast by the profound silence that followed the play. At least one prospective student chose to attend Marlboro after visiting during Mud and witnessing the production. People still talk about this performance at the college, now twelve years after its existence.
© 2008 The Laboratory for Enthusiastic Collaboration All rights reserved